Lifetouch has provided a special limited-time offer to ensure each family at our school gets the opportunity to preserve this school years' memories. To order school pictures visit mylifetouch.com. Hurry, this offer ends Friday, December 11, 2020!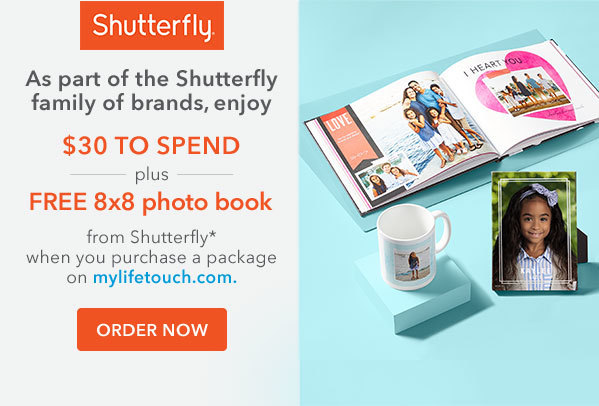 Mrs. Gilbert's 7th grade science classes created cell models at home during their Wednesday virtual class. Mrs. Gilbert loved seeing their creativity and use of materials from play dough and recycled products to pizza and cakes!💚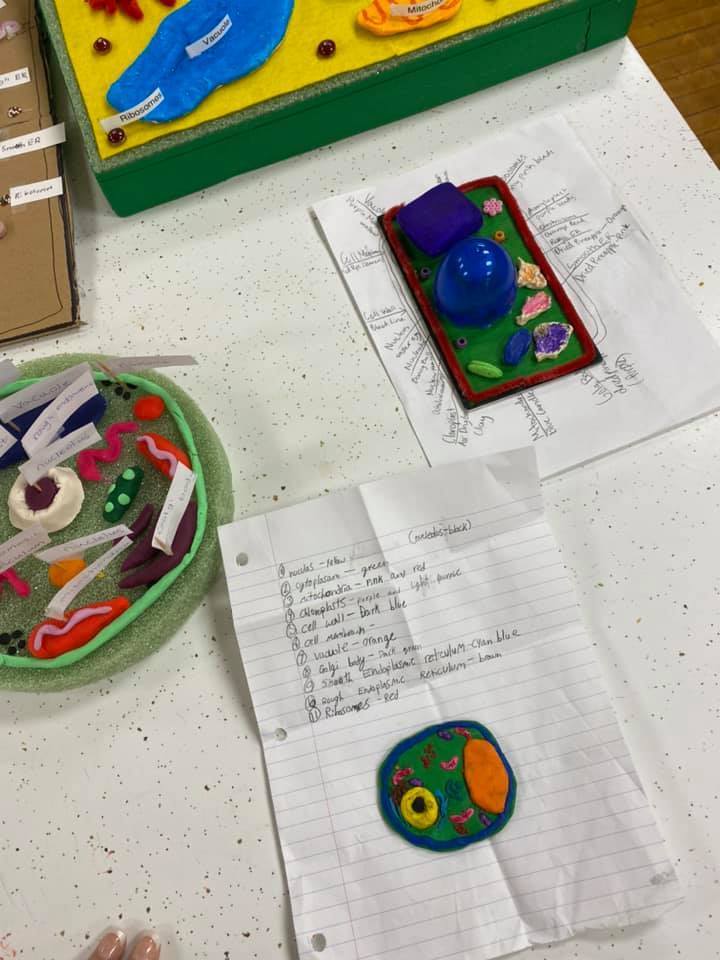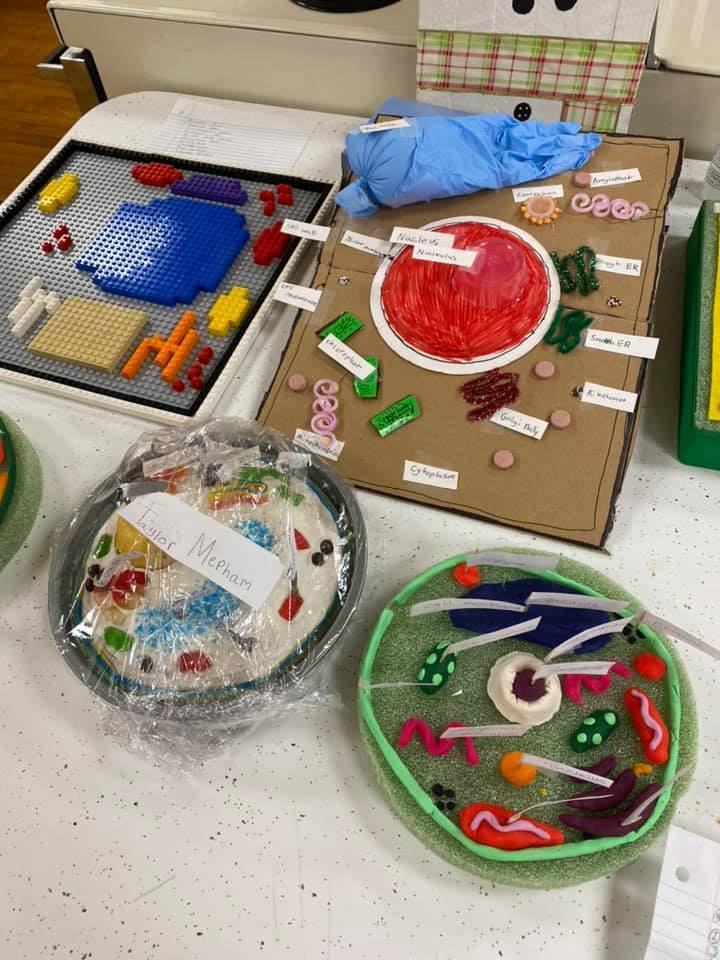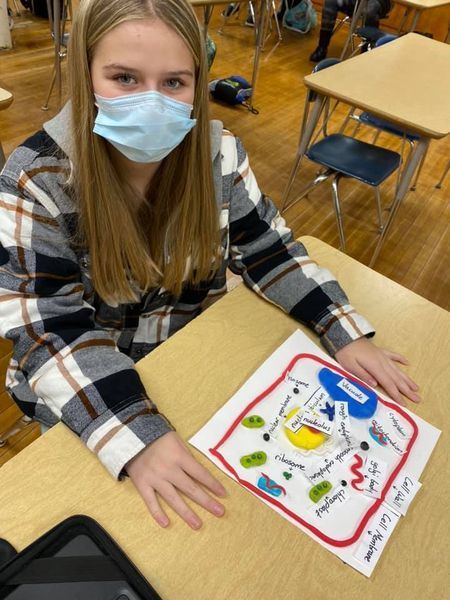 HAPPY THANKSGIVING!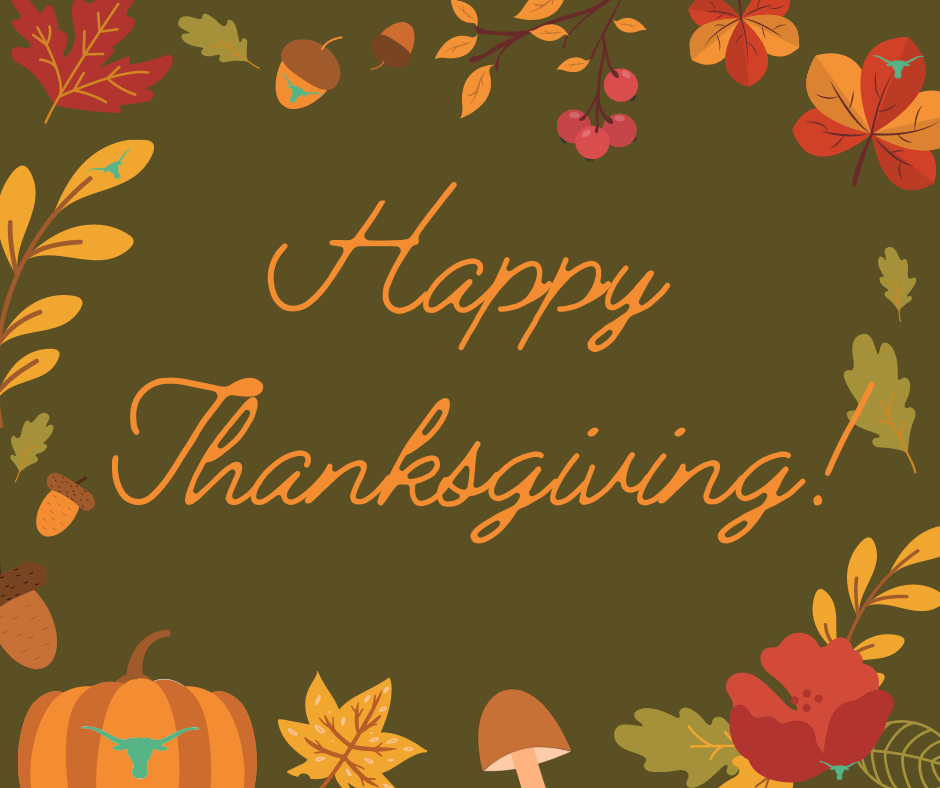 Adrian-area discount cards make great gifts for family, friends, and neighbors! Sand Creek Music Boosters is selling the popular Adrian-area discount cards as a fund-raiser. You can buy the discount cards using MySchoolBucks, the price is $10 each. After your purchase, you will be notified when to pick up your discount cards. The pick-up location will be at the high school pavilion. Thank you for supporting the Sand Creek music program!

The Sand Creek Student Government will be sponsoring a "tree lighting" that will take place Friday, December 18th at 6pm. This "lighting" will be live streamed. All proceeds of this event will go toward a local legend-Ms. Barb Sell. We are going to be selling paper bulbs (via a Go Fund Me campaign) in the shape of lights that will be hung in the school lobby window on our "giving tree." On these bulbs, we will write your name (or the name of the person you would like to honor or remember). We will also have a virtual page that will be posted on the school Facebook page/school website which will detail your donation and the message you would like to share.
https://www.gofundme.com/f/decorate-the-tree-for-barb?utm_source=customer&utm_medium=email&utm_campaign=p_cf+share-flow-1

Sophomores, Juniors, and Seniors: Applications for the tech center open November 24th. Returning tech center students must also fill out an application. These are first come first serve. January 29th is the deadline for Tech Center applications. Please see Ms. Rumler for any questions!

Elementary Virtual Day – November 20th Elementary students will be having a virtual day (attending school from home) on Friday, November 20th. Your child's teacher will be scheduling approximately 90 minutes total of Google Meet sessions that day along with one special. Your child will have assignments posted to their Google Classroom. This is a required day and the expectation will be for all students to complete the work assigned for that day to receive credit for being present. We are excited for our elementary students to participate in our district wide virtual day on November 20th! JRSR High School Virtual Day – November 20th All students in the 6th through 12th grade will have a virtual school day on November 20th. It is expected that face to face students and virtual students check in with their teachers and attend a virtual "google meet" session according to their regular class schedule and that all students be on time for the google meet session. These Google Meet sessions are designed for teachers to check-in with face to face students for the purpose of attendance or any academic support that is needed.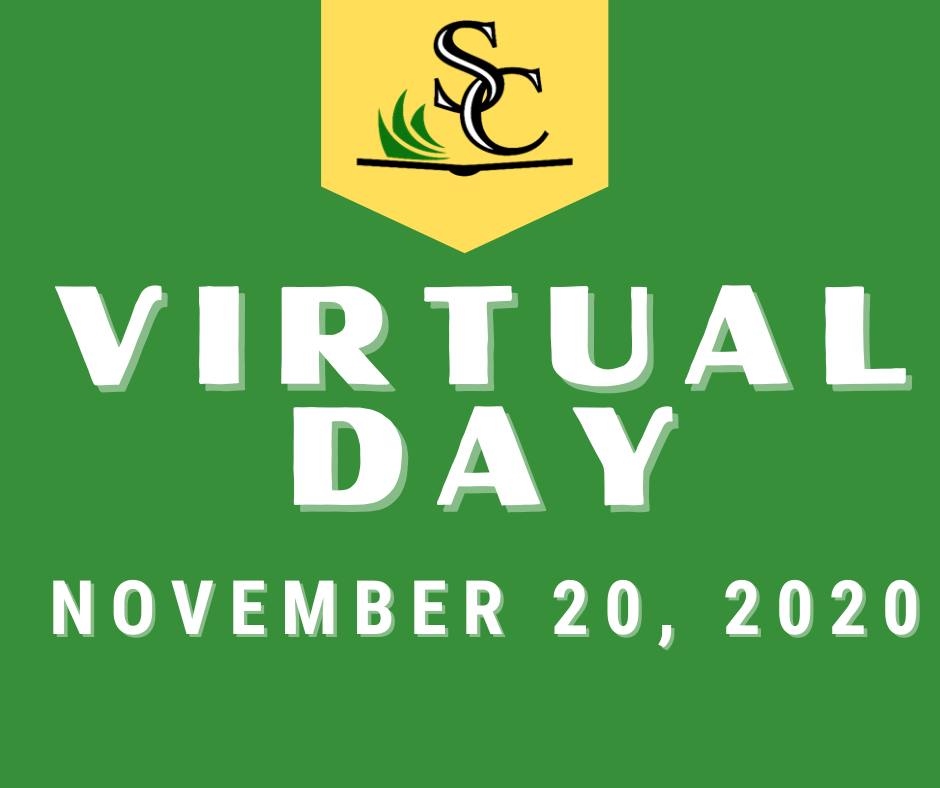 The Penguin Patch Holiday Shop will look a little different this year, the shop will be completely online. Your kids will be able to log in to the shop online and buy special items for their family for Christmas at low prices while still supporting the Sand Creek PTO. The shop is now underway and information about the online shop should have been sent home on Friday. You can login to
https://shop.penguinpatch.com/shop.php
and use Ruth McGregor Elementary for the login. The shop runs now till December 4th so happy shopping!! Any questions contact Lisa Kay PTO President or any PTO officer.)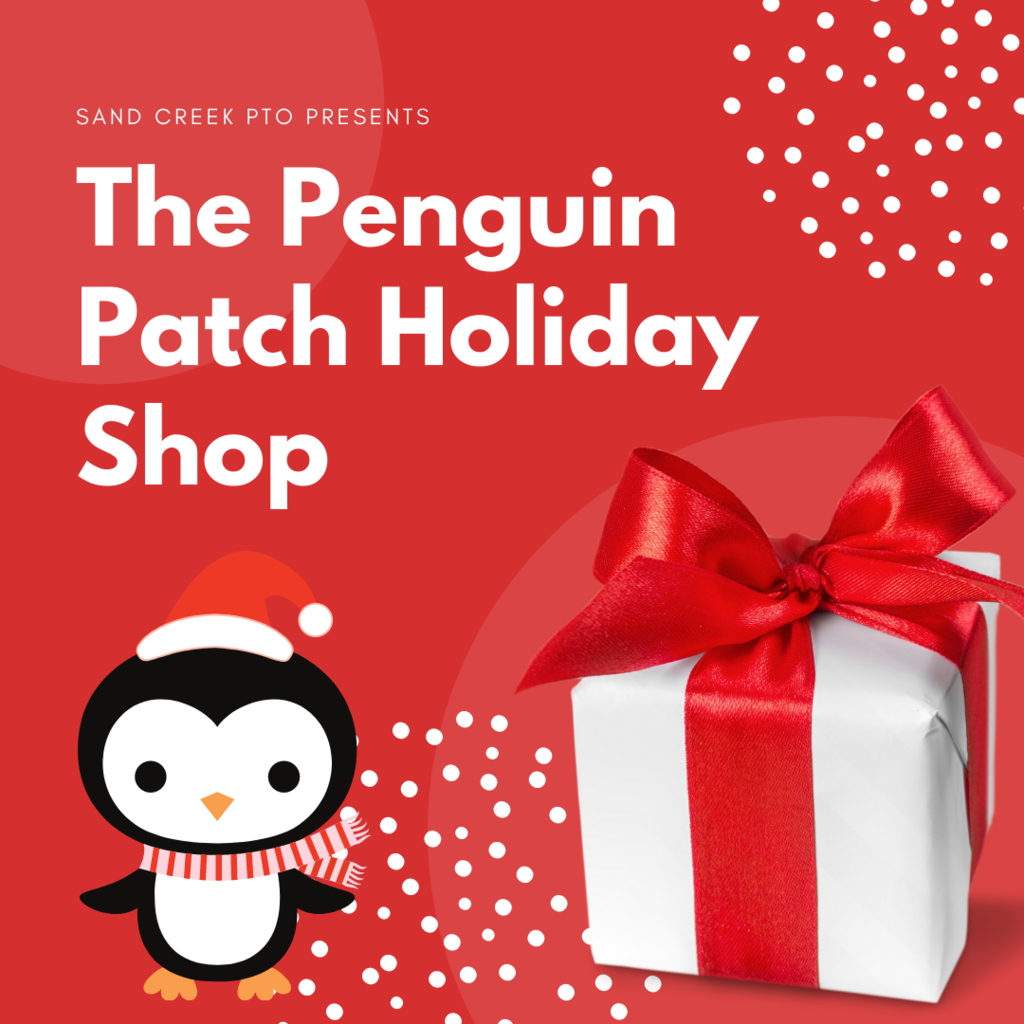 9th-12th grade face-to-face students: If you would like to pick up meals for the week of November 18, 2020 please sign your child (ren) up by 9 a.m. Tuesday, November 17th. The first pickup date will be on Wednesday, November 18th from 7 am – 1 pm on Gorman Rd. at the cafeteria door. To register click on this link:
https://forms.gle/Su9hmKjBG4K3Auzy7
If you have any further questions, feel free to contact Laurie Boss, Food Service Director at
laurie.boss@sc-aggies.us
or 517-436-3124

November 15, 2020 Good evening, Sand Creek Families; As I am sure most of you are aware, Governor Whitmer held a press conference earlier this evening outlining the new requirements from the Michigan Department of Health and Human Services. As part of these orders, all Michigan High Schools are required to move to remote learning for a period of three weeks beginning Wednesday, November 18, 2020 at 12:01 a.m. Sand Creek High School will hold face-to-face instruction on Monday (November 16th) and Tuesday (November 17th) as scheduled. Additionally, the district has received notification from the MHSAA that all middle school and high school sports have been suspended effective immediately. The MHSAA notification included all games and practices until at least December 8, 2020. At this time, K-8 students are still able to continue face-to-face instruction. The Sand Creek School District Administration team will be meeting tomorrow morning to finalize a detailed plan moving forward through the next three weeks. Once this plan is complete, we will share it out to all stakeholders. We appreciate your understanding as we work through this newly acquired information. Steve Laundra Superintendent

Check out the book fair flier! Many books are still available for in school purchase. The Elementary Book Fair will be extended through next Wednesday, November 18th. Please check out the great book selections available and shop from home! Christmas is right around the corner and books make great gifts!

Learning Choice Decision – 2nd Semester: All Pre K through 12th grade parents need to decide on their students' instructional learning choice by Monday Nov. 16th at 8 pm. Visit the school website for the link to the 2nd semester instructional learning choice. Students will not be able to switch instructional choices once 2nd semester begins. Again, the deadline for this decision is Monday Nov. 16th at 8 pm.

Ms. Papenhagen's fourth grade students have created their own instruments for a science project. They are currently learning about all the different forms of energy, including sound energy, so they came up with their own new ways of making sounds waves. Our music teacher, Miss Morris, even conducted them all during music class for a mini symphony!

Ruth McGregor Elementary staff and students donated $574.64 to the WLEN Thank A Vet program.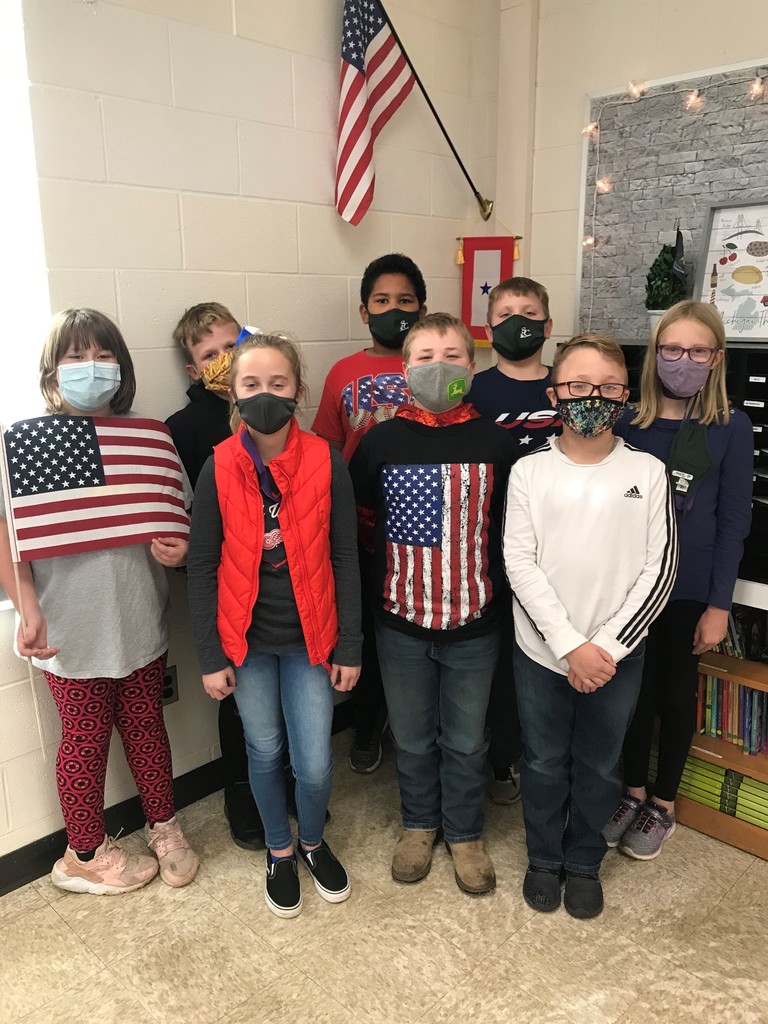 Mrs. Miller's fifth grade students are working on a science activity making wind proof house construction using paper/pencil and their chromebook.

Thank you Veterans.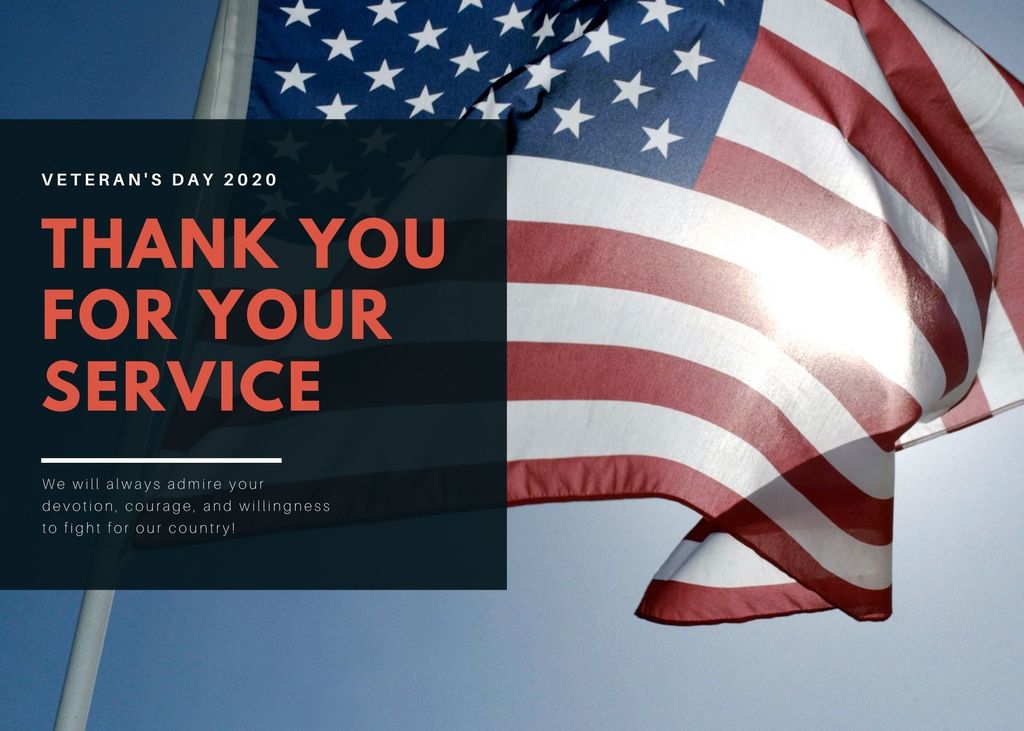 Families that are in need of food assistance and would like to sign up for free weekend meals provided by I-92 Ministries, please contact your school building or Ms. Rumler (counselor) directly. Meal packages are also available for Christmas break and can be packaged ahead of time. Please contact the school no later than November 20th for the Christmas break package. Weekend meals can be provided at any time. Thank you!

Students and Parents, join Sand Creek Community Schools for CareerCon on November 30th from 7-8:30PM to learn about next steps available following graduation including on-the-job training, apprenticeships, tuition reimbursement, and job opportunities available in Lenawee County. Register at lenaweenow.org/CareerCon.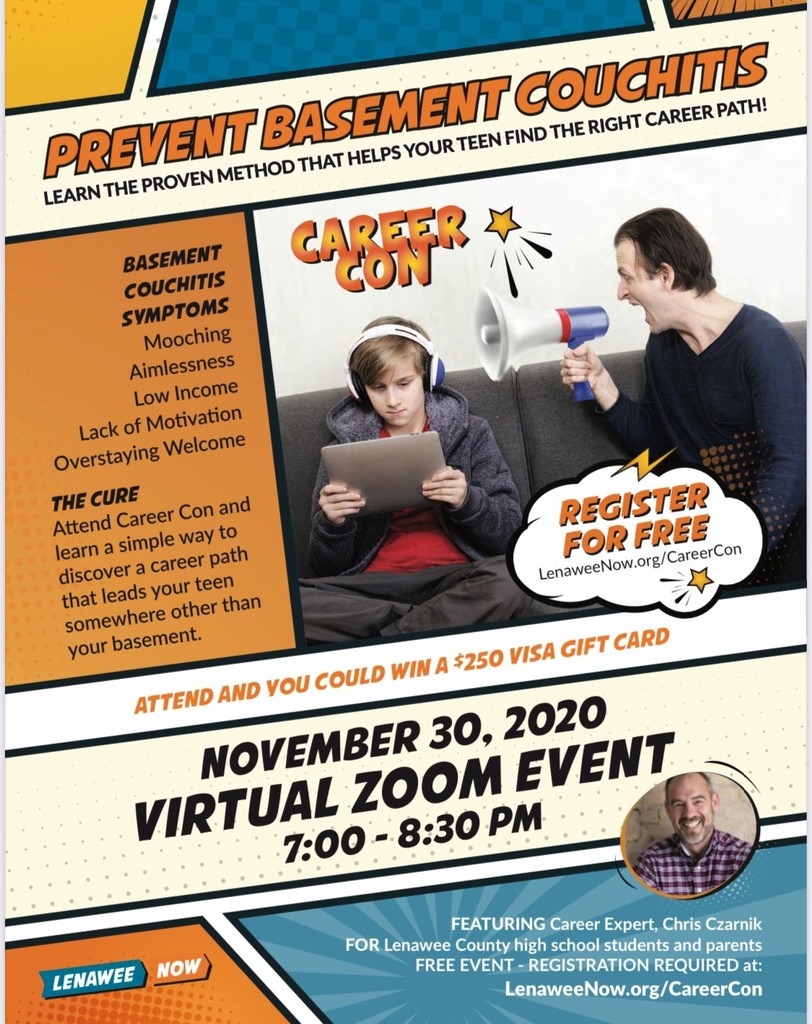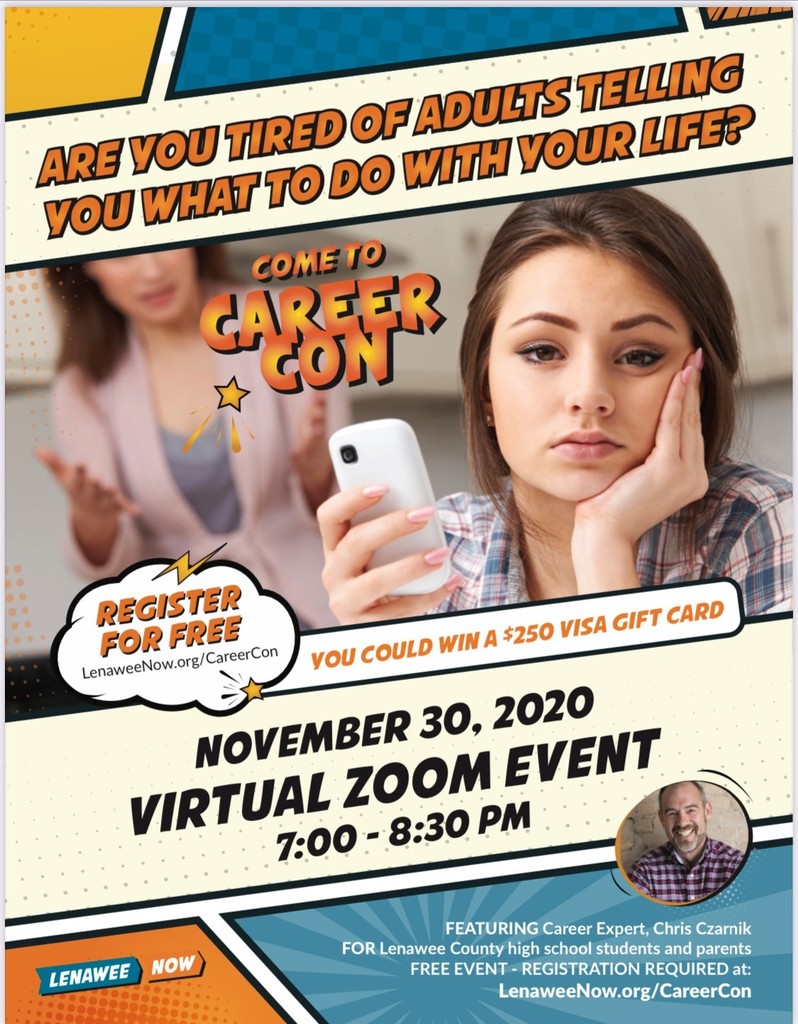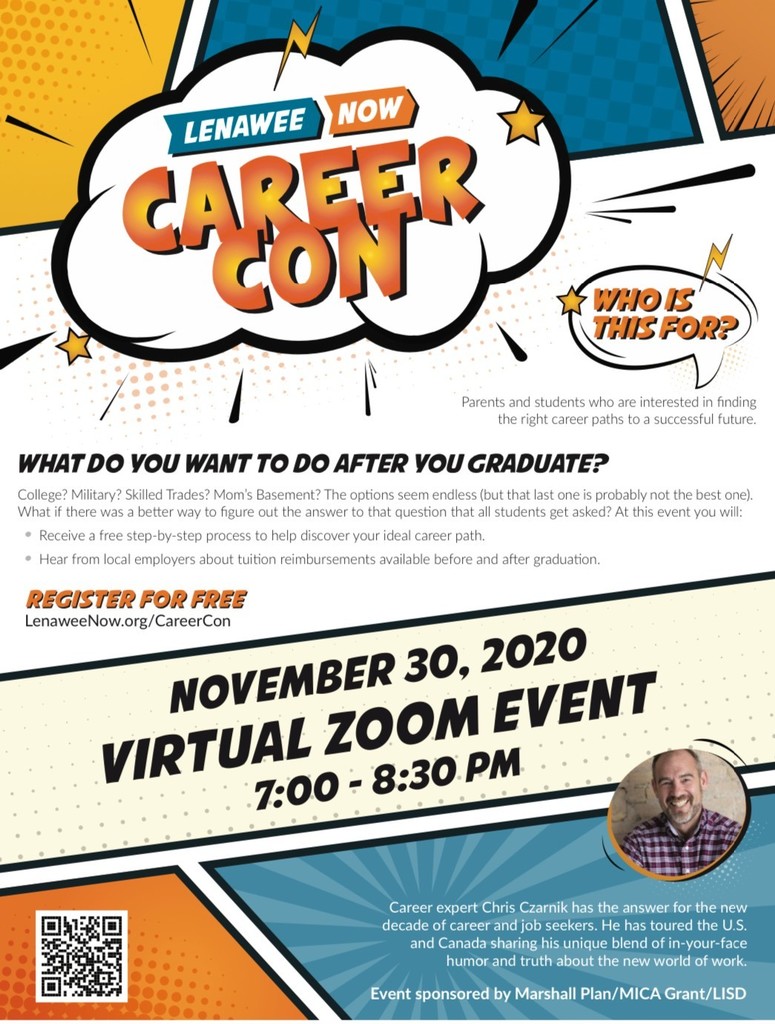 The Ruth McGregor Elementary Library is holding our Scholastic Book Fair this week until Friday, November 13th. Sorry no in person shopping, but check out the bookfair homepage quick link on the school website under Departments - Library. Once on the Book Fair home page you may view a virtual flier, send in a prepaid order including 6% sales to the school and have books sent home with your student. You may also place an online order directly with Scholastic. Thank you for keeping students reading and for supporting your school library. All orders need to be placed by this Friday.

2nd Semester Learning Choice Commitment Form: Parents must register their student(s) for second semester learning choice, regardless if they are changing instructional methods or not. All students must re-register for 2nd semester. The Deadline to submit your child's learning choice is November 16, 2020 by 8:00 p.m. 2nd Semester Learning Choice Commitment Form Parents must register their student(s) for second semester learning choice, regardless if they are changing instructional methods or not. All students must re-register for 2nd semester. The Deadline to submit your child's learning choice is November 16, 2020 by 8:00 p.m. Click here to register:
https://forms.gle/R7ogeS5t81Zmng2z6