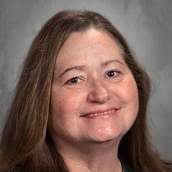 My name is Becky Serin and I am the school nurse for the district! I've been here for a little over a year but wanted to re-introduce myself. I have been a Registered Nurse for over 15 years and in the medical field for over 25. My husband and I have been married for 26 years and we have 4 children who all have attended Sand Creek. Tylor is 25 and almost done with electrician school, Megan is 23 and graduated from Siena Heights University and now is going back to become an art teacher. Madison is 20 and also wants to be a teacher. She is attending Adrian College to become a PE/Health teacher. Brody is a Senior this year at Sand Creek and just finished his last football season. Many of you know me or have seen me taking pictures of different events for many years. I am also in charge of the HS Spirit Club called the MOOcrew.
I am fortunate to have office hours in both buildings which I am very grateful for. I'm at the High School from 8:00-11:30am and in the elementary school from 12:00-2:30pm. If you have an elementary student, you may at times have seen a "Nurse Note" in your student's backpack or I have reached out to you regarding your student. I believe communication is very important between the nurse and parent(s). I hope this brings you peace of mind knowing your child was well cared for at our school.
If you need anything, please feel free to call or email me anytime. I am here for you and your student.
I am so excited to be here, in the district that has had my heart for many years. Go Aggies!
Nurse Becky