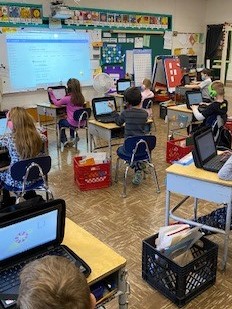 What are the virtual learning expectations?
Sand Creek High School 9-12th
Student Expectations (During School Shutdowns)
This instructional format requires students to attend school from home in an online setting via Google Classroom 5 days a week. Students should check for and complete assignments daily for each class based on individual teacher instructions. Daily assignments will be posted by 8 a.m. each day. Online learning requires a strong student commitment to self-motivated learning in an online setting. It is recommended that students follow a schedule similar to in-person learning in which they check Google Classroom during each regularly scheduled class period. Successful students learning in an online format understand that communication is key and will email teachers promptly with questions and concerns. Students should check their grades using Home Access Center, not Google Classroom.
All students will work on assignments using the resources provided by their teachers. Students are expected to complete their assignments on time. Students are encouraged to use the learning tools being provided (Google Meets, Google Docs, instructional videos, etc.) through their teacher's Google Classroom.
Every student is expected to turn in their online assignments by the due dates set by their teachers. These assignments are being graded and count towards each student's grade. These assignments are not optional. If students do not turn in their assignments on time, they will be scored as zeros which could translate to a failing grade for the class and loss of HS credit.
It is expected that all students grades 9-12 attend a virtual Google Meet session every Wednesday (starting on November 18th) during your assigned class period according to their regular schedule; students should be on time for their Google Meet sessions. Class starting times are posted on the school website under each teacher's Google Classroom link. These Google Meet sessions are designed for teachers to check-in with online students for the purpose of attendance and academic support. Teachers will also use Google Meet time to provide essential social-emotional support. Additionally, teachers will offer office hours and/or individual Google Meets on Monday and Friday. These scheduled Meets may be student or teacher initiated and will take place during the student's normal class schedule.

Sand Creek teachers have developed a Google Site for students, parents and teachers. This Google Site has short instructional videos on basic through advanced skills students will need and use while going through virtual learning.
Virtual Instruction led by Sand Creek Teachers
This instructional format involves students attending school virtually, full-time from home with a Ruth McGregor teacher five days a week. This format requires a stronger student and parent commitment than face to face. Parents of online learners are expected to closely monitor their student's progress on a daily and weekly basis and contact their teacher if there are questions or concerns. This instructional format allows students to learn from home with a curriculum created by a Sand Creek teacher utilizing Google classroom. The students will be expected to attend whole and small groups as well as making frequent connections with their teachers and peers throughout the week using Google Meet and interactive web tools. Students can work at their own pace throughout the day however, there will be assignments required each day. These assignments should be completed on time. Every online student is expected to turn in assignments by the due date set by their teacher. These assignments will be graded and will count toward each students' grade. These assignments are not optional. If students are not doing their work, this could result in failing grades or possible grade level retention. Students are encouraged to use the learning tools being provided (For example: Google Meets, Screen Castify, instructional videos, etc.) through their teacher's Google Classroom. All teachers will post assignments on Google Classroom. This learning is not the same as it was last spring. Parents are expected to facilitate and monitor these assignments. However, the teaching and feedback will be provided by the teacher. This instructional format requires online learners to have reliable internet access. It will be very challenging to succeed as an online learner without adequate internet access at home. While online learning is clearly the safest instructional method of the two choices, it is not as educationally effective as face to face instruction.
Elementary Virtual Days: November 20th, February 12, February 15 and May 28
Elementary students will be having a virtual day (attending school from home) on Friday, November 20th. Your child's teacher will be scheduling approximately 90 minutes total of Google Meet sessions that day along with one special. Your child will have assignments posted to their Google Classroom. This is a required day and the expectation will be for all students to complete the work assigned for that day to receive credit for being present. We are excited for our elementary students to participate in our district wide virtual day on November 20th!