EDIT MAIN
TUESDAY'S THROUGH JUNE 9, 2020
7:00-9:00 A.M. SAND CREEK jR./sR. hIGH SC DOORS
4:30-6:30 p.m. ruth mcgregor elementary
New families only!
New registrants need to complete the form
by 2 p.m. on the Thursday before Meal Pick up.
---
15,000 Meals Served Since March 23, 2020
---
Thank you red paint printing and van shoes!
The owner of Red Paint Printing, Todd Harder in Adrian delivered some of our volunteers some new Vans shoes as a Thank you for all our hard work on Tuesday, April 21, 2020. A Thank You from VANS SHOES:Shoes are a gift from Steve VanDoren directly, he is the son of the founder of Vans shoes and has been part of the company since 1966 when they started "This is a people company making shoes"-Paul VanDoren Steve wanted to say thank you for working to help others during this time
"We are Family, and family sticks together!"
---
THANK YOU I92 MINISTRIES!
Thank you to Andy and his team at I92 Ministries in Clinton Michigan for providing 300 meal boxes to our families the week of April 6th. This allowed our cafeteria staff and volunteers to have a week off. Your generosity is greatly appreciated.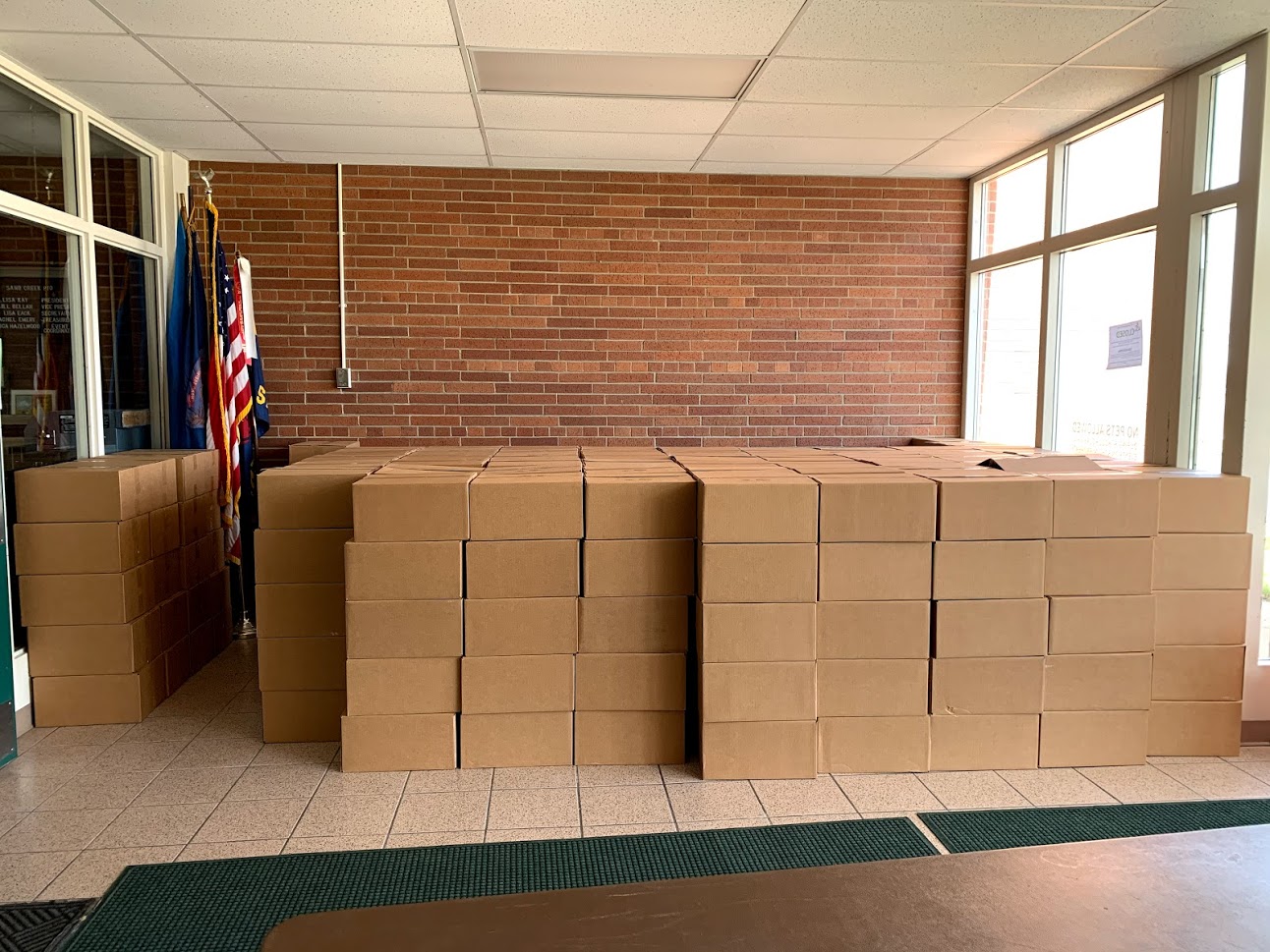 ---
SAND CREEK SCHOOLS STEPS UP MEALS TO CHILDREN PROGRAM
OUR AGGIE Covid-19 HEROES
Both Sand Creek Community Schools' kitchens have been working tirelessly throughout the Covid-19 pandemic and school closure. As of this Friday, April 3rd, they will have prepared and distributed over 12,000 meals for our children. The two kitchen teams are mix of kitchen employees, school employees, and volunteer parents, students and community members. None of these people were forced or pressured to work. They wanted to work and they continue to do so. While some of the school districts in our area are struggling to keep workers and volunteers in their kitchen, Sand Creek actually has a volunteer waiting list to work. This speaks miles for our community. We all need to be proud.
On behalf of our school district, we'd like to take this opportunity to thank and honor our Aggie Covid-19 Heroes from the kitchens of Sand Creek HS and Ruth McGregor Elementary School. Your sincere commitment and dedication to our children is miles above and beyond reproach. Because of all of you, our children are receiving meals during very trying times.
We'd also like to thank and commend our Sand Creek Administration team, our Building, Maintenance, Grounds & Transportation supervisors and staffs for their extraordinary work and dedication the past three weeks. You make us proud as well.
Cafeteria Staff: Laurie Boss, Hollie Hillard, Dawn Ohlinger, Shannon Maxson, Marsha Osgood, and Rachel Hernandez.
Volunteers: Jennifer Alcock, Alexandra Waltz, Elaina Allen, Olivia Allen, Tim Bennett, Ruth Benge, Adriane Bernotas, Dakota Bohn, Ivana Cameron, Trisha Carey, Jacob Ceslick, Ethan Cook, Brianna Edison, Cheryl Elliott, Gracie Gallagher, Jodie Gilbert, Lisa Gonzales, Jan Gossman, Crissany Grayer, Jessica Hazelwood, Caitlyn Hella, Rachel Hernandez, Kelly Higgins, Zach Higgins, George Hillard, Vernae Hillard, Lee Korir, Scott, Machniak, Lisa Meszaros, Shannon Maxson, Becky McMillon, Glen McMunn, Sara McQuistan, Lisa Miller, Stacy Mitchell, Tracy Papenhagen, Carter Phenicie, Kristie Phenicie, Erin Phillips, Alicia Pickles, Therese Rains, Dustin Reckner, Erika Scheu-Millek, Sharon Smith, Danielle Shortsle, Gage Stoddard, Lucky Stoddard, Sadie Strouse, Angie Theisen, Sarah Thomas, Mark Vanderpool, Sue Vanderpool, Jennifer Wheeler, Makenna Wheeler, Laurie Williams, Jorden Wilson, Woody Wilson, Shelly Woods and Michelle Miller for the balloon animals.
---